Red Team (or Team Hot Sauce) is the team Blue Team is against.There are lesser preps in this team compared to Blue Team (about 10%).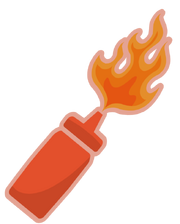 Blue Team preps annoy preps who are in this team.
It is observed by General Sydney that most of red team consists of Jocks.
It is also called Team Hot Sauce.
Their main rival is Blue Team.
Blue Team preps chase away preps in this team.
They are not seen much as most of the people support Blue Team.

One of the most biggest reason is that because they got 2nd place in Penguin cup and Blue Team got the first place.

Some people say Red was the best team in 2008. (Though it is a good fact, some preps don't like it).

However, they are the second largest team in club penguin as yellow and green team have no preps but some normal people support them.