Jocks are boy preps. They are not as annoying as girls (preps). They tend to dress handsome and accept prom dates by girl preps.Some of them show off.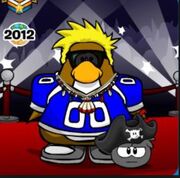 They tend not to say much dialogues other than saying XD,IKR etc.
They say yes to whatever girls say.
They sit really close to girls making other preps either jealous or say get out.

This causes normal penguins to report them.

They are usually Football team captain of Blue Team (90% of them). There are very few Red Team jocks (10% of them)
They don't like shopping, they want to play football all the time.

Their favorite room is the Stadium  since they play football there.
Note for the agents
Edit
Sometimes, sometimes, these penguins can be mildly helpful. BUT THAT DOESN'T MEAN YOU CAN GO HANG OUT WITH THEM UNLESS YOU ARE AN UNDERCOVER, SO GET THAT OUT YOUR MIND, RECRUIT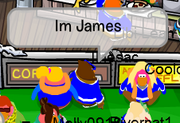 See: Names
Jocks  don't talk much.They usually use acronyms like LOL,XD,IKR etc.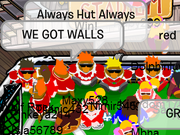 The side swept, The sunstriker, (even other variants of this wig), the tuft etc.
Pearl necklace, star necklace, sometimes boa.
Black sunglasses, red, green and blue sunglasses or super hero mask.
Rugby player t shirt
Any shoe (mostly blue sneakers).
Hand Item: Football, Magic Wand (sometimes).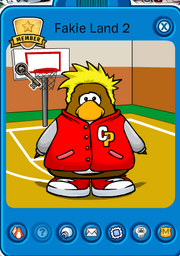 Community content is available under
CC-BY-SA
unless otherwise noted.