Fashion Shows are preppy events in Club Penguin. There was a Fashion Show during February 2012. Preps act like models or superstars to showoff their fashion.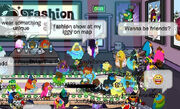 Preps show off a lot in Fashion Shows witth their Prom Dresses.
According to The Corporation Theory, making a fashion show is an act of supporting preps.
Preps wear Prom Dresses in Fashion Shows.
club Penguin made preppy login screens for the fashion show in 2012.
There was a mini-Fashion Show at the Clothes Shop during the Hollywood Party.
There was a preppy Fashion Festival in August 2015.

And most of the themes were preppy too.
You could vote for others outfits.

There are Fashion Shows called "Pukie Contests" for Pukies. The winner of these contests is picked by the prep. It is a good method to do a mass-killing of Pukies: make one and kill them all, simple enough!