The Cove is a room taken over by preps. Many preps wear their swimming bikinis over here and hangout with Jocks.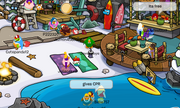 Some preps act like waiters at the mini smoothie shop in the Cove.
Preps bully a lot here. See the List of penguins bullied by preps to know about all the types of penguins that are bullied by preps.
Preps usually wear bikinis here.
Jocks wear surf shorts here.
Some preps act like lifeguards here by sitting on the lifeguard chair and wearing a lifeguard costume.
Many preps take their Pukies to the Cove for swimming. This is what makes the cove less popular.

However, you may see some Preps shoving their Pukies' head in the water and drowns or thow them in the fire. Do NOT stand doing nothing: help them, they are secret Pukie Killers! That is also why Pukies aren't seen here often there.

Preps do inappropriate things here like being a swimsuit model.
Fun Fact: Preps were all killed when a large raid of Sharks eated them, making the Cove less and less popular for the Preps.